1) Do you have a favorite "hair metal band?"
No.
2) Def Leppard got their start in South Yorkshire, England. Have you ever been to the UK?
Yes, and I've had such a good time there that I want to go back.
3) Who would you rather chat with, one-on-one: Prince Philip, Prince Charles, Prince William or Prince Harry?
Well, the younger ones might be the most pleasant to have a chat with.
Prince Philip might be the choice, because my dad came across him during WW2 and went to his wedding. I have a letter to me from him, so it would be nice to thank him in person.
But my choice would be Prince Charles.
A friend has met him quite a few times and tells me he's a kind guy. I don't know, but I trust my friend's opinion.
I would love to hear what he has to say about our Royal Family and the new King and Queen we'll soon have.
4) Do you use real sugar, or a sugar substitute?
I hardly use additional sugar. When baking I use normal sugar, but the very few times I need sweet it's stevia I take.
5) Valentine's Day is big for candy sales. Did you indulge in any Valentine-themed, sugary treats this week?
No.
6) Do you regularly balance your checkbook?
I'm the lucky one not to deal witgh that part of family life.
It seems traditional not to, but I have other responsibilities.
7) What was your last impulse purchase?
A pair of boots for 12 euro and it's the best purchase in the footsection I've ever made. They're warm, comfortable and not even very slippery when ther's ice on the streets.
8) When Sam was a girl, she had nightmares about snakes under her bed. When did you last have a bad dream?
That's such a long time ago that I can't remember.
9) We're ordering pizza. Do you want deep dish or thin crust?
I never order pizza. I don't like it.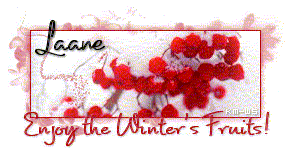 Want to take part too?
Click the logo.
Logo made by me with photo from Mirna.