1. How did you cope with your biggest heartache?
I cried, told myself not to enjoy self-pity and gave it time.
2. Who was the last person you visited in the hospital?
You'd better ask who was the last to visit me when I was there.
3. How many jobs have you held in your life? How many of those were part of your chosen career field?
I grew up in a time that people didn't even know that a career field could exist.
My career is to be a humane human, so all jobs fitted in that.
4. How did you discover Saturday 9?
Don't know anymore. I think I saw it when surfing blogs.
5. If you could take the train from anywhere to anywhere, where would 'anywhere' be?
I guess some people will say from here to eternity, bit i will do with: from here to Oban.
6. When was the first time you cooked for someone else?
Oh my dear. The next question is when I first walked by myself holding a self embroidered bag, yes?
I guess I cooked for my gram.
7. What is the worst beverage you've ever tasted?
I keep only a list in my mind of the best three.
8. Is there anything in life you are "certain" about? Firm in your beliefs? Strong in your convictions?
Haha! Certain! I'm certain I will die. I'm sure I won't be disappointed. It will happen.
9. Do you know anyone who has as very unusual pet?
Not really, although I think that a few people in the neighbourhood keep strange husbands as a pet.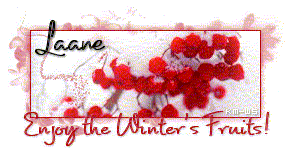 Want to take part too?
Click the logo.
Logo made by me with photo from Mirna.

You can request the logo, but only when you will credit properly.
There's also a header and a square of 125x125 available.