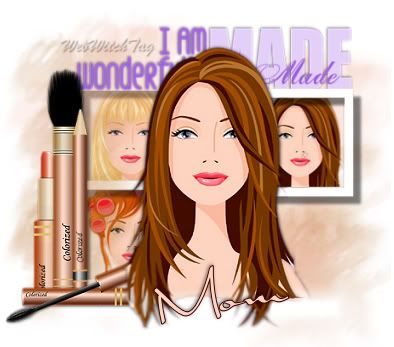 Made by WebWitch from Tag-time
Being a mom of girls is só wonderful!
When they were baby's I could dress them in small little pink outfits with lace and ribbons and they looked adoring.
I loved to ride them in the pram and show them off.
The boys loved feeding the ducks, so there I went... pram and 4 little guys walking in front to show me where to go.
They were real gentlemen. They've never made me walk to the other park where there were no ducks. LOL!
Growing up was a good time too.
As I had 4 boys already, I felt OK with motherhood, but now I had girls it was a complete new journey of discovery.
Before I had to accept all the boyish things, including a room full of rails and trains.
Now the girl's things were added: dolls.
Plenty of duplo dolls siting in the trains. Trees beside the rails, a railstation, and they even offered cake and coffee at the railstation.
I could hardly walk in my own room, but it was paradise for the kids and I just couldn't stop enjoying their happy and concentrated faces.
Then suddenly my lipstick was gone.
Just... gone.
The drawer was left a bit open, and there was an empty space.. hmmm.. I really thought there was a lipstick.
After a day I'd almost forgotten the red sticky lipglue, until...
... yep... until I heard my shoes withheels in the garden, saw the purple of a straw hat and a scarf on top, .... with a tulip I could swear stood in the back beside the willow...
.. and then I saw a face. A red face.
Oh yes, she hit the lips with the lipstick,
and her cheeks,
her eyes,
her nose,
chin,
and ears.
The lipstick was never the same as before.
After all those years between then and now I suddenly discovered an empty space in my drawer at the same spot.
Huh?
But at the same moment one fo the girls called from the bathroom: "Mom, I borrowed your pink lipstick, I just need a little bit. Don't worry, I'll put it back."
And she did. With a little paper attached to it: "Thanks!"
She had used just a tiny little bit and she looked well.
With her new shirt, skirt and shoes, she looked far better than the day she appeared before me with her purple straw hat and red face.
Now I saw a pretty young lady who knew how to deal with make-up.
That evening she went to a party looking perfect.
And I sat down with a coffee, pleased there was no need to step over all those rails and trains again.