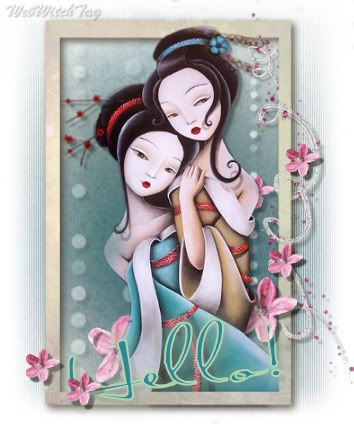 The schoolyear is over!
We all, yes all, are very happy with that and never ever have we been so glad to leave a schoolyear in the past.
What should have been a very good year had been a complete disaster except for the very good reports both girls got.
When children are 12 they move to a different schooltype and different school.
So did my girls.
They came in a 2 year basis and kept their groupteachers for both years.
At first all seemed well: an experienced guy and a young gymnastics teacher who was rather popular by some of the girls.
But soon it turned out they were not the people they seemed to be. They were not as devoted to the group, especially not in matters of bullying, as we expected them to be compared to former experiences with schools.
Then the girls noticed they were treated different from others, but we couldn't find out why.
We discovered it during the last weeks: they thought we were members of a sect, or extreme religious group, if you prefer it to be put that way.
And which was worse: they mentioned this to child protection services as a fact. Including the remark that my daughters were not allowed to do many fun things.
You know what happens when people think you're part of a group they don't like: they ascribe all unwanted characteristics to you, or stereotype you.
And so they (man and woman) stereotyped my girls: they didn't mingle with others, didn't feel well with themselves and preconceptions like these.
That too was reported to Child Services.
Even though child services know we're not belonging to a sect, they won't even believe us when we tell them my girls feel OK.
Now I'm trying to find a psychologist who can test them and proof that way that my girls are allright. But it's vacation and the licensed ones are spending they money at expensive hotels.
I can't belief that those people of Child Services are not able to see my girls are allright, or maybe they do, as they're targetting my mothering skills and are saying I'm burned out, which I'm certainly not.
Last week the girls had a day out with their group.
The female teacher was not present, and suddenly all the girls behaved normal and had a good time with my two ones.
The male one had a good drink and a good time bothering one of the women up to the point that she had to tell him to back off.. Yep, that's the guy who persists he sees my girl right and brings us to court.
That's the person child services beliefs and who's opinion is put above those of all of us, our doctor and a therapist.
The last day he refused to give one of my daughters a hand.
He's supposed to be grown up. He looks like it.
Well, my girls got a good report and showed that they can concentrate and work on their future even though all sorts of nonsense is said about them.
I'm so proud of them that I almost drop from my chair.
A big hooray for their good reports!!