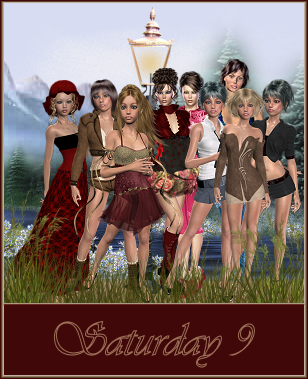 1. When was the last time that you got jealous?
I don't know.
I'm not a jealous person, never have been.
2. At what point do you finally decide it's time to move forward with your life (like, major changes)? How do you know? What do you do?
Well, each day is a move forward.
Real big changes will be made when my autistic son is able to live without my daily assistance. So that's when he moves out to a trainingshouse or another facility.
I will be able to do the things that require space, time, and the things outside the house.
And Scotland is waiting at the horizon.
Maybe I'm there faster that I now think. Who knows.
When the girls have done their final exams they can continue their education there.
3. When is it time to just let it ('it' can be whatever you choose) go? How do you know? What do you do?
I don't know when it's time.
I assume at the moment that we'll find a job there.
4. How many times must someone push your buttons before you've just had enough? Why?
I can have a lot.
And apart from that, not many people know where the buttons are.
But when people threaten the wellbeing of my children and my family, or doubt my parenting skills of 23 years experience with autism, I can react different from what they expect.
5. If I S/O were to cheat on you, could you ever see yourself giving them a second chance? Or a third?
Depends on how the reaction is when I find out.
Right now I won't take anything at all.
6. What was the last thing that someone did that you were very grateful for?
There are 3 people who have made me deeply grateful the past weeks
1. being a real friend
2. a very nice compliment
3. good advice
7. How much time do you spend online in a given weekday? What about the weekends?
It depends. Sometimes it's in between 10 minutes each time, just to have a break. Blogging. And a round of dropping on those who dropped at my site.
Sometimes it's longer, to write, to discuss something, to look things up, to study or to surf around. Apart from the daily things.
8. How many online journals/blogs do you read regularly? What are some of your favorites and why?
I'm not going to mention blogs, because there are so many good bloggers online.
9. What was the last major purchase that you made?
Floor. We needed a new floor in the living room and as I've always been very happy with vinyl tiles I wanted those. But they were not available anymore.
We've found vinyl flooring though that looks like wood, sticks to the ground too and come in long pieces.
The next purchase will be a new fridge...but I think it has to wait quite a long time because we need the money for regular things at the moment.
Have a great weekend and have a happy mother's day!
Want to take part too?
Click the logo.
Logo made by me with tubes from Pann's Place.

You can request the logo, but only when you will credit properly.
There's also a header and a square of 125x125 available.