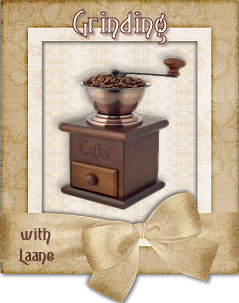 There are days I long to sit at my grandma's table and grind coffee with her.
The strong smell of coffee, the sweet light through the window and the soft smile on her face.
Wouldn't it be a great introduction for a meme?
Well, you're allowed to consider this as much.
When you want to take part, let me know and I'll send you the graphic, with your own name.
When you've written your post, put a link in the comments, please.
Grind away what happened this week so you can start your weekend a bit better.
We've had a terrible week again (blog about it next post)
One of my sons was bothered by bills from the person who lived in his apartment before he moved in, and was full of fear they would come and take his belongings to pay those bills. Well, matters are settled now.
I went to the pharmacy to get the meds of my autistic son and the row was sooooo long I went home again. Lost time, lost energy.
I have loads of laundry, but it's raining all day.
We had huge troubles with the heating, but after a lot of mess in the house, it's repaired.
Turned out that we're not the only poeple dealing with considerable heating problems.
We have to consult a lawyer (maybe morethan one) to get matters dealt with, so we're getting in debt because of that. I hate that!!
I have far too many appointments and too little sleep,. I want things done in the house, but there's too little time and I'm too tired.