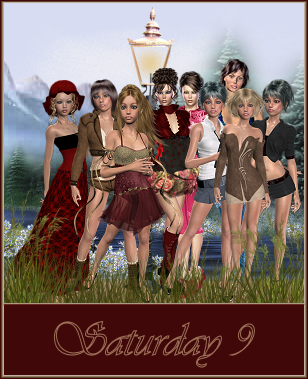 1. Tell us about one thing that you'd change about yourself if you could.
Trusting people and believe that all people are good people in their hearts, whatever they do.
I need to become more realistic, do I?
I've been told I need to fight even harder for myself.
2. Mattel decides to make a Barbie-like (or Ken-like) doll of you -- what would be the most important accessory or accessories they would absolutely have to package you with in order to portray your lifestyle?
Bagpipes
3. Hey, do you like surprises? If yes, what kinds?
Good surprises. A long lost friend visiting me, something small in a package.
4. What was the last snail mail that you received that was significant?
About royalties for the translations of some books. (I can't even buy an icecream this year. LOL!)
5. If you could pick out a brand new nickname for yourself, what would you choose and why?
Defender of children
I've been told I'm not, and it hurts me to bits.
6. John Edward's mistress was on Oprah this past Thursday. She stated that no third person can break up a marriage, so it had to be broken before the two started doing the nasty. Do you buy that?
Each marriage is different, but I think there are people who are as evil that they can break up even a very good marriage.
7. Do you think it is okay to keep secrets from your s/o?
What's s/o???
I'm not a person who keeps secrets.
8. Have you ever played Truth or Dare? If yes, what's the weirdest dare that you did?
No.
9. What, in hindsight, the stupidest thing that you have ever done?
I was 13 and wanted a role in the schoolplay.
ofcourse they wanted the handsome, darkeyed girl to play the female part.
There were no other woman roles, so I said I was able to play a men's/boy's role.
At a school with about 1200 boys. LOL!
(I was one of the first girls who entered a very large boy's school after the boy's and girl's school merged. The director of the schoolplays used to have boys play the girl's part, because there were no girls available. I was so eager to play a role that I reversed the situation. I've been ashamed about this stupidity for years. But now I can laugh about it.)
Have a great weekend.
Want to take part too?
Click the logo.
Logo made by me with tubes from Pann's Place.

You can request the logo, but only when you will credit properly.
There's also a header and a square of 125x125 available.