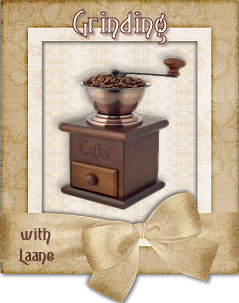 There are days I long to sit at my grandma's table and grind coffee with her.
The strong smell of coffee, the sweet light through the window and the soft smile on her face.
Wouldn't it be a great introduction for a meme?
Well, you're allowed to consider this as much.
When you want to take part, let me know and I'll send you the graphic, with your own name.
When you've written your post, put a link in the comments, please.
Grind away what happened this week so you can start your weekend a bit better.
Main issue was sexual abuse in the Catholic Church. People from my former school stepped forward, and it turned out that someone I trusted abused at least 15 boys. As I had some main positions at school I should have seen it, known it.
I couldn't sleep, researching memories, moments, places, people.
All it generated were more questions.
This morning I discovered that among the victims one boy I knew a little bit. But as my questions will be answered I think I'll know more victims and better.
How could I be so naieve? How can I help? What's the worth of my memories?

We were bugged with more bills for my mother in law and brother in law who died last summer. We even had to pay for water used after their death. No way!
Had a parent's meeting with two teachers. One of them gave me the chills. She knew she was dishonest as she didn't even look at me when I got a hand. Brrrrr....
I had a bad cold this week, decorated with spring allergy. My muscles still ache.
My other site was hacked and some very ugly links were placed on it. It took me far too long to undo this. I wanted to use that time for the autism site.

Well, a new weekend is before us.
Let's hope that the huge cloud with vulcano ashes drifts over soon.