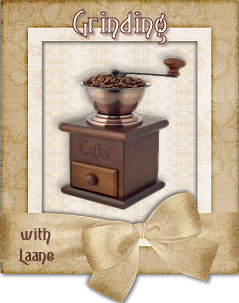 There are days I long to sit at my grandma's table and grind coffee with her.
The strong smell of coffee, the sweet light through the window and the soft smile on her face.
Wouldn't it be a great introduction for a meme?
Well, you're allowed to consider this as much.
When you want to take part, let me know and I'll send you the graphic, with your own name.
Grind away what happened this week so you can start your weekend a bit better.
One of the girls found her bicycle with pins in the tyre and the airvalve turned out. Someone must have realised her bicycle stood just a few cm's from the surveillance camera's.
I woke up this morning with a soar throat and a headache. I guess an elephant stepped on my head tonight, and I missed it.
One of the boys who is supposed to deal well with his money with the help of a special caretaker came home with a bill and expected us to pay. Alas.
Yesterday I wanted to go to bed, had to put something away in the fridge and found a sea of liquid at the bottom. Had to clean the whole thing and realised we need a new one. I've never asked my parents for money, but I cried this time. My dad has died long ago, but I wish he was alive again so I could ask him for a new fridge.
Nothing heard from the psychiatrist who promissed care for the eating disorder of my autistic son and a good diagnosis for another. It's a symbol during autism week of the lack of care here.
Ofcourse I didn't win the autism prize, ofcourse I was right about who would win. It shouldn't have been about a commercial organisation, but about volunteers and special people.
There's a blog at our paper about a couple with a handicapped child. They were called about the continuation of care, and were all over the floor because they had to tell what their child couldn't do. They both worked.
Well, I can't work, because I think it's my responsibility to care for my own child, because there's nowhere for him to go, and because we don't have the time to fill in all the forms. Life with a handicapped child is never normal.

Well, that's it for this week.
When you want to participate, just let me know.
Have a nice weekend!