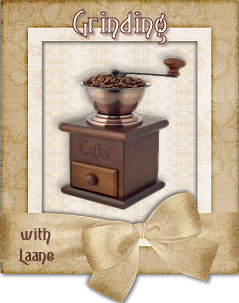 There are days I long to sit at my grandma's table and grind coffee with her.
The strong smell of coffee, the sweet light through the window and the soft smile on her face.
Wouldn't it be a great introduction for a meme?
Well, you're allowed to consider this as much.
When you want to take part, let me know and I'll send you the graphic, with your own name.
Grind away what happened this week so you can start your weekend a bit better.
Yesterday plans for cutbacks were publicised. I first thought they were part of an april fools joke. Not! Now we depend on politicians to have enough wisdom not to let normal people suffer more. I wonder if there's enough insight by those who have to realise cutbacks. None has even looked at diminishing import.
I don't know how we can cope with less money. I just don't know.

They still haven't caught the masked man.
The father of the kids changed locks. Never heard from oiling them before using them. So the first morning the key got stuck and he can't remove the cilinder. Now the door can only be locked with the security hooks. Meaning that no one from the outside can come in... so I have to stay downstairs until everyone is in for the night, and I have to be on watch the whole day.
The Dutch url for the autism site didn't come through. I think the person who was going to arrange it forgot it. I bet people will be moaning again about a few Dutch posts between the english ones. (Well, I dont have the money available to get the url at another place.)
I saw wonderful shoes this week. Oh, I so liked them. Even took a fit and realised I shouldn't have done it. Stupid!! They were only 20 euros.
One of the girls is ill. I hope she doesn't infect the whole family.
I was the only one who remembered the birthday of my second girl who died at birth.

Well, that's it for this week.
When you want to participate, just let me know.
Have a nice weekend!