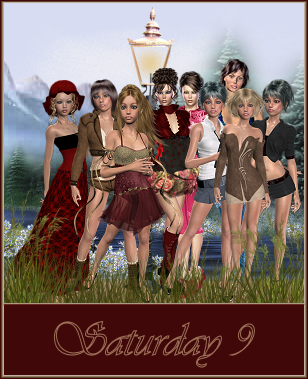 1. How vein are you about how you look?
Do you mean vain?
I'm not vain.
But I want to look clean.
No need for rags and such. I always wash my hair when I go out and put on clean clothes.
I'm a bit artistic in my choice... so beware!!
2. When you were little what was your favorite TV show?
Had that question a few weeks ago.
Swiebertje.
3. If someone was going to make a movie or TV show about your life, who would play you and why?
Had that question too and I've forgotten the answer.
Lucinda Walsh/Elizabeth Hubbard can play how I am now.
4. Who is your favorite Major League Baseball team? How about your favorite player?
We don't have that sport here. So I don't know.
5. What is your favorite baseball-related movie?
I have none.
6. What is one lesson you have learned in the past year?
That I'm very firm and straightforward with my need and intention to change the world. Think I'm finally going through puberty, and I love it. LOL!
I also learned that the psychiatrist of 2 of my sons is just like the rest there: lots of talk, nice smile and no therapy for my son.
When I go there now it's all theatre and play for me. Ugh!!
7. Tell us about one of your childhood memories.
Good or bad one?
I remember I always loved the birds in spring.
8. How do you handle sticky situations? Do you have a method? If so, what is it?
Several.
Humor. But I'm careful not to offend anyone and make the situation worse.
Tactically divert the attention.

Step back and overlook the situation, see if there's a way out or a solution to the problem no one invented yet.
Become a calm leader, summarise the situation and tell everyone that the problems will be solved when all are calm.

9. Do you think people talk about you behind your back?
Yes. They do.
Often people have the wrong impression of me. Which I don't mind as long as they don't think I'm oversized because I eat too much.
I like the fact that I stick in their minds, because I want them to be remembered about what I've said about autism.
I also think they talk about me, because I'm a mom of 6 with 4 autistic sons. I know what I'm talking about and many problems I face I've faced before, but are new to them. Some people hate it when I have a solution to a problem straightaway.
Working with parents of autistic children has given me a wealth of information to use.
Want to take part too?
Click the logo.
Logo made by me with tubes from Pann's Place.

You can request the logo, but only when you will credit properly.
There's also a header and a square of 125x125 available.