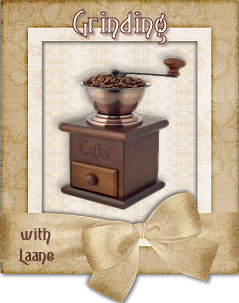 There are days I long to sit at my grandma's table and grind coffee with her.
The strong smell of coffee, the sweet light through the window and the soft smile on her face.
Wouldn't it be a great introduction for a meme?
Well, you're allowed to consider this as much.
When you want to take part, let me know and I'll send you the graphic, with your own name.
Grind away what happened this week so you can start your weekend a bit better.
Site for Autism foundation not finished yet.
I'm a complete fool. Had a good, nice, layout and gave it away when someone said it would fit their site. So now I'm designing something completely different. I want to use something which is already designed, but I still want to give it my own look and features.
Wanted to try something out... yea.. server maintenance. Just 4 days to go. Ugh!
My ADHD son smokes. I hate it!!
He threw the left overs of his sigarettes in the garden. That made me soooo mad.
He had to clean it up all by himself, so I assume he'll think when he wants to do it again.
They still haven't caught the masked man.
My left foot is still swollen.

Well, that's it for this week.
When you want to participate, just let me know.
Have a nice weekend!