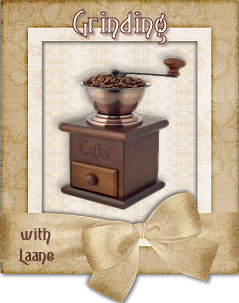 There are days I long to sit at my grandma's table and grind coffee with her.
The strong smell of coffee, the sweet light through the window and the soft smile on her face.
Wouldn't it be a great introduction for a meme?
Well, you're allowed to consider this as much.
When you want to take part, let me know and I'll send you the graphic, with your own name.
Grind away what happened this week so you can start your weekend a bit better.
Still no renewed concept diagnosis for my third son. The psychiatrist is on vacation. (...)

My autistic son saved for a game. He ordered it. Some stupid mailworker made a mistake and it never arrived but was send back. Oh, all those hours of listening to his moaning about the mail, his meltdowns because he was up too early and far too expectant.
Filed a complaint at TNT who told me to ask the sender to start an investigation from England. I asked the guy for a scan of the package and it arrived so clear that I could read everything on it. The mistake is made here in The Netherlands, and they should solve it.
It's just a 6 english pound refund.

Opened a bottle of deodorant this morning and there was no applicationtop on it. That was new to me.
Had a parents evening this week. Turned out both mentors don't hold the truth as very valuable. They're not investing the energy in our children. All those kids deserve better.
As a result I've decided not to wait for action of the very kind (read too kind) contactperson. A few questions were raised and I'm researching them. Mailed a few people and I'm waiting for the answers.
Got a more than 750 euro bill to pay before the 24th. Otherwise it will be an interest loaded loan.
The money needs to be repayed because my son stopped with his studies. Not because he wanted to stop, but because they won't allow students to continue who don't have a job. But shop-owners are not hiring people in this time of recession.
And we don't have the money...
So certainly no vacation this year.

Yesterday it was beautiful weather. So now it's allergy season. I have to wait a complete day until I can fetch my meds at the pharmacy.
I was too tired yesterday evening to drop Ec's at more than a few sites. Sorry.
Finally we'd found a very nice and good podotherapist for my autistic son and this week he told me that he'll leave the practice.
My left foot was swollen almost all week.
Just heard that one of my favorite writers (when I was young) has died. Margreet van Hoorn.
Well, that's it for this week.
When you want to participate, just let me know.
Have a nice weekend!