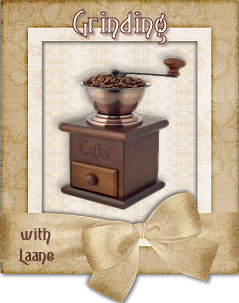 There are days I long to sit at my grandma's table and grind coffee with her.
The strong smell of coffee, the sweet light through the window and the soft smile on her face.
Wouldn't it be a great introduction for a meme?
Well, you're allowed to consider this as much.
When you want to take part, let me know and I'll send you the graphic, with your own name.
Grind away what happened this week so you can start your weekend a bit better.
The psychiatrist of my third son promissed the concept of the diagnosis on the doormat. It didn't arrive.
He also promissed to refer my classiic autistic son to the right people to attack his weight problems. Nothing happened.
He told me that he was going on a vacation next week. Tell me. I haven't been away in 25 years. At least he could admit my son to hospital and give me his holiday house in the meantime. LOL!
I wonder if I'll have a proper pension when I'm old.
I forgot to motivate someone to mention me for the national autism award. Guess it's too late now.
Couldn't get my computer online today. Until now.
Just a few days ago we found a huge pile of bills on the doormat of my MIL and BIL who dies in the summer of last year. It was soon after we thought we'd finished the complete administration. Will it ever stop?
There's far too much to do. Need to make the autism site before april, get some articles written, and a lot more. No reply yet from above to lengthen the days to over 24 hours.