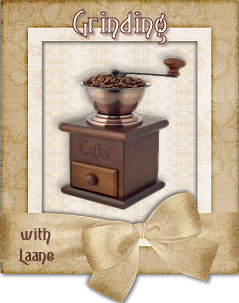 There are days I long to sit at my grandma's table and grind coffee with her.
The strong smell of coffee, the sweet light through the window and the soft smile on her face.
Wouldn't it be a great introduction for a meme?
Well, you're allowed to consider this as much.
When you want to take part, let me know and I'll send you the graphic, with your own name.
Grind away what happened this week so you can start your weekend a bit better.
With the Olympics in the past we have a great time to look back on.
What's left are sleeping problems, because the Olympics were at a completely opposite timezone. But we'll get over them.


At the school of the girls the problems with bullying are still not handled well. Next week: parent's meeting.
Didn't receive one little bit of reply to my mail about one of the girls being confronted with so much homework that her health started to suffer.


Paperwork!!! Again forms and forms.


Wrong diagnosis third son. Haven't received the concept of the renewed diagnosis yet.
Psia said no autism diagnosis could be given at that age anymore. Ridiculous! So that means more work to verify that and get it changed.


They're rather silent working on merching the autism spectrum disorders with the schizofrenic disorders, only because they've found 2 genes the same by both disorders.
This is completely against all scientific knowledge about gene-expression and certainly against all what has been fought for the past years.
I'm soooo mad about this, because it won't be an improvement for the care of our children and will only mean more medical intervention instead of support for daily life.
Problem is that the professor involved in this is also part of many volunteer and other autism organisations.


I need more time in a week!