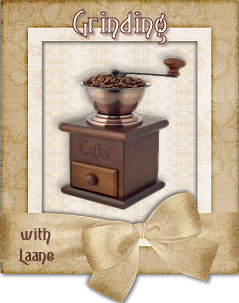 februari 12 2010
There are days I long to sit at my grandma's table and grind coffee with her.
The strong smell of coffee, the sweet light through the window and the soft smile on her face.
Wouldn't it be a great introduction for a meme?
Well, you're allowed to consider this as much.
When you want to take part, let me know and I'll send you the graphic, with your own name.
Grind away what happened this week so you can start your weekend a bit better.
Like every week I had no moment to be bored.
Winter started anew with cold, winds and snow, and yesterday evening I got the message that my oldest broke his foot.
My second son got his first review at the protected living organisation.
To read that he has accepted his autism well and is able to express his problems and guard his own limits made me really proud. He worked very hard to reach that.
He also got permission to go to a special school to become a photographer. It took a year to make that happen.

Son three is considering where to go to school next year. The tests that should help him decide came back with precisely the area's he feels he has to chose between.
Son 4 with classic autism paid, with us, a visit to daycare, because we had a meeting to see if he could be helped with his problems to leave the house.
Let's say that I left nothing to be done.
So all the work to enable him to go there was for nothing, and we have to start it all again... finding a place he likes, etc etc.
Daughter 1 gets so much homework that she's feeling tired all the time. Her dyslexia causes her to be a slow reader. And extra time is not in the homework schedule. I wrote school, but the reply made clear that they don't want to change anything.
It took me 6 months to make them have a go at bullying, and 6 months to make them aware that the groups was not functioning well and teachers didn't do their job well, so I guess it'll take the rest of the schoolyear to make them aware that less homework is needed when teachers explain things well. (Now they refuse to explain things twice and at times they don't explain at all. Unbelievable!!)
Daughter 2 needs a check up at the doc and I forgot to make an appointment. Just a routine to make clear to school she's perfectly OK.
Because she's small and has a pale complexion one of her teachers told her she's an anorexia patient. I've invited the teacher over for dinner, but he didn't accept. He didn't invite her over for dinner at his place, otherwise he would have seen she's a healthy eater.
She can compete with her older brothers.
Girls will start bagpipe lessons again. One just like that and the other can take an exam again. Phew!

Like the past three months (or 4, or 5) I didn't have a chance to go for the bonescan. I really have to go, so my backproblems can be seen to. But when??
Tried to make the world to stand up for Gomey. A nice 19 year old autistic boy who was taken from his home as a result of a wrong assessment of a new social worker.
He's not the only one and I got quite a few horrifying stories.
It really touches me to see that there are so many people who just don't care for those with special needs.
Got attacked by someone about a wrong way of dropping entrecard. Attacked is a nice word for slander in this case. I thought I was doing nothing wrong by dropping from cache/temporal files.
Made new droppinglist, changed privacy settings, and discovered that more of the autism team and others were victim of his misconceptions. Felt sick when I saw how many people just accepted what he said, and how many people thought they found the right way to find out that he was right and how many blindly accepted his black list.
Had a very long meeting with the autism team and made a lot of changes now it's growing so fast. It's nice to share responsibilities, but new ones arise and I wonder how long we can work without sponsors.
Oh and I saw the launch and docking of the Endeavour.

Worked on my book about autism, did all the other usual things and...
Was confronted this morning with toilets that couldn't drain...
Because of the cold and the winds the sewer outside was froozen.
It's two hours later and I've created the normal flow again. Am I happy I didn't use the washing machine last night. I can't imagine what would have happened. (But I get visions of water streaming down the stairs.... ugh!)

Grinding this all is quite a job.
My gram would smile and tell me that a lot was accomplished this week.
She would poke up the coals in the heater, take some cups and pour in tea.
Then slice some bread and give it to the birds outside.
When I look in my own garden, I see thousands of birdsteps in the snow.
The bread I gave them this morning is almost gone.
My coffeecup is emtpy.
Do I see a snowflake drifitng down?