November 8 2009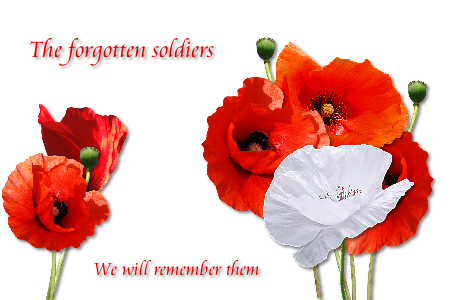 Remembrance day is as close to the hearts of the British as is our remembrance day at may 4.
But even though we're not British, we always remember with them.
My father served in the RAF during WW2 and he stayed with a family who lost a dear young man of 21 in 1941.
They waited for him to come home from a flight to Germany, but he never returned.
The day that my father went with the family to the memorial statue and to a special place in the hills where he loved to look over the country is glued in my memory forever.
My children haven't witnessed the depth of the feelings of grief those people experienced, but they've always sensed how touched I was and still am. Out of respect they witness with me the memorial events on TV.
I know that when my father lived, he didn't only remember that fine young man, but also close friends who lost their lives while he waited for them at the airport before he was allowed to fly too. I know he'd seen far too much of life and death for a person his age, when he was in WW2. He carried it with him in silence, but I knew.
All I could do was rest a poppy at his desk.
As the years pass, and my father is so very, unreachable, far away, my feelings grief for the lost lives grows.
One of the reasons is that people seem to have forgotten that so many people from The Netherlands, France, Poland and other European countries joined the RAF and lost their lives fighting for freedom.
Like my father, they were giving everything they had in service of the RAF.
But there's no representative for them at the remembrance events, no one who lights a candle, who holds a flag, or who puts a wreath at the Cenotaph in Whitehall.
How I wish that next year those brave soldiers, who managed to travel through europe during the brutal occupation of the Germans, cross the Channel and enlisted in the RAF and other parts of the army, will be represented and remembered.
Like all those others they never returned home.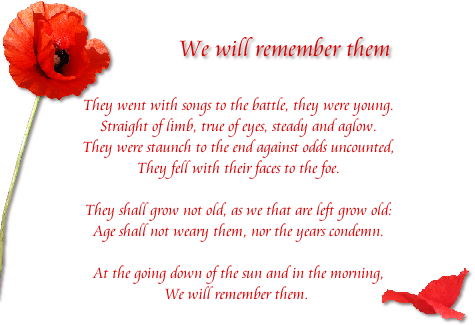 Graphics made with red poppies from Kirstys Scraps and a white poppy from Dakara Creations.
Poem is from The "Ode of Remembrance" from Laurence Binyon's "For the Fallen", which was first published in The Times in September 1914.