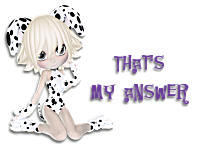 august 5 2009
When you sign your name on cards, do you add the hugs and kisses too?
Ofcourse it depends on who is on the receiving end.
Here in The Netherlands people are not very open about emotions like loving family and friends.
Hugging is not a thing done on cards or mails. Kisses are good for exchange between girly friends, lovers and spouses.
We have the word "liefs" which resembles something like: very friendly, almost loving greeting.
And we use, more often, `groetjes`, which means± friendly greetings.
So these are the words I use, whenever I send a card.
Speaking of cards, do you care enough to send the very best? Do you care if it's a Hallmark card?
When I send s card I don't look for special names on the back, but for nice images on the front.
I can spend quite some time looking for one single card, and I'd rather not send one, than one I don't feel fits the person and the occasion.
Want to take part in "That's my answer"?
Click the logo.