March 19 2009
Tsunami warning For the Tonga Islands.
Last monday an underwater twin vulcano in the South Pacific ocean near Tonga started to erupt, leading to huge and fierce ash, steam and smoke eruptions from at least two places, near the twin volcanic islands of Hunga Tonga and Hunga Ha'apai.
Tonga is a South Pacific island chain North of New Zealand and East of Australia.
Scientists were able to near the vulcano to shoot an interesting short movie which can be seen all over internet.
They were able to observe the huge eruptions from a boat, staying away from pyroclastic events.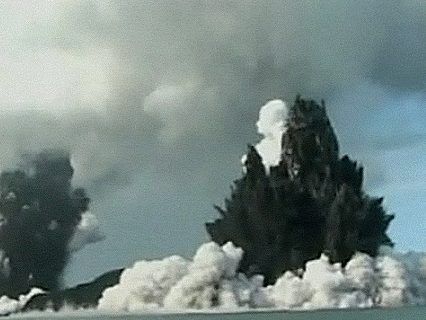 Thank you Wil for making this available.
Because the wind isn't blowing to the direction of the main island of Tongatapu, which is about 6 miles from the underwater vulcanos, there are no people in danger at present.
An earthquake of 7,9 hit the area.
A tsunami warning has been issued, which lasted an hour and caused panic.
The waterlevel was raised ony a few cm's, so the water didn't cause any casualties.
The epicentre of the quake was 209 km from the coast of the main Island of Tonga, at a depth of 10 km.