january 5 2009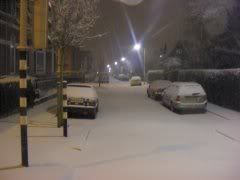 Yesterday evening it started to snow.
Very fine snow... first more rainy, leaving dark streets between whitish pavements.
Later the world slowly got white and at nighttime everything was overed by a thin layer of about 3cm.
I love snow, so we took a walk and enjoyed ourselves tremendously.
Isn't it great to be the first to leave traces?
When we came back I was worried about the girls going to school, because under the layer of snow there was a layer of ice. Very dangerous when you're on a bicycle with a large bag.
I've put the bus tickets ready, just in case.
My autistic son woke up and found the world around him very white.
He likes snow, because it makes the world easier to see, he told me a few years ago.
It simplifies everything, because it covers details.
Going out is a completely other thing.
No way I can get him to take steps outside.
His balance isn't very well, so he feels so terribly insecure that it's no wonder he slides.
Now a firm wind starts to blow and the temperature is dropping again there's no chance the snow will disappear before it's time to go sporting.
So that's another missed opportunity.
I can understand him, but other people think I have to be more firm with him and force him to walk into the snow and to take his bicycle and just go.
Yea, that's what I thought in the past too: let him experience he can deal with it and he will.
But the world of snow is a picture on the wall for him.
His whole world has changed and he won't step into that strange world, which feels and looks completely different from the world he knows.
The sensations of cold trigger a reaction that leads to him getting angry, because he can't understand his body.
The snow on his skin and the little tingling from freezing create too many stimuli to attend to, so he'll be overpowered by the chaos in his mind.
He's completely happy here at home.
Why do other people want him to go out?
Why not accept him as the person he is.