january 13 2008

I feel very honored that Godess from
Over Forty and Loving It!
and Kloggers/Polly from
Random Ramblings
and Liza from
Mommy's Little Corner
awarded me with the Noblesse Oblige award.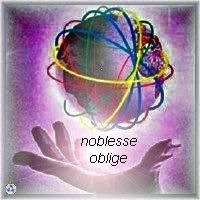 It comes with the next text:
This award is presented to bloggers who display consistency in any one or a combination of these conditions:

1. The Blogger manifests exemplary attitude, respecting the nuances that pervades amongst different cultures and beliefs.
2. The Blog contents inspire; it strives to encourage and offers solutions.
3. There is a clear purpose at the Blog; one that fosters a better understanding on Social, Political, Economic, the Arts, Culture and Sciences, and Beliefs.
4. The Blog is refreshing and creative.
5. The Blogger promotes friendship and positive thinking.

The Blogger who receives this Award will need to perform the following steps:

1. Create a Post with a mention and link to the person who presented the Noblesse Oblige Award.
2. The Award Conditions must be displayed at the Post.
3. Write a short article about what the Blog has thus far achieved- preferably citing one or more older post to support.
4. The Blogger must present the Noblesse Oblige Award in concurrence with the Award Conditions.
5. The Blogger must display the Award at any location at the Blog.
I started blogging many years ago to update family and friends abroad.
And I did. In english.
Gradually, however, the emphasis changed from an accumulation of accounts if the children's life-events into a way to vent about the difficulties I encountered in my life, into a blog aimed at creating awareness about
autism
and
autism spectrum disorders
.
Ofcourse the struggle to get my autistic son to
school
is told.
Going with the flow of my life I developed insights in people and events, in
parenting
,
politics
and in many other areas. Writing it down meant I was able to look into a mirror.
Ofcourse I know each of us is an individual being, but we share also lots of things, so I'm OK with other people reading along.
Once in a while idealism flared up.
In my opinion no one is better than someone else.
We're all world citizens and we should behave accordingly: with respect for others, instead of some people telling others how much better they are and how much better their country is.
Especially in the light of the financial crisis there is no place for people looking down on others.
We all should work together to tackle hunger, poverty, lack of healthcare, pollution and all those other issues that bring about inequality.
In the good times I was able to save for
smallpipes
, but the chance to save enough for the bagpipes for both my daughters is almost impossible.
Blogging has become a lifeline to the world, as I'm not often able to leave the house and I'm not able to keep a normal social life. Living with 4 autistic children and their father means balancing on the thin rim between pretending to be a normal family and being a family where I'm far more a psychologist/mother/life-artist than a relaxed mom who has no worries in the world.
So I love
memes
.
I'm living a real life soap and I haven't found the script writer.
Be sure, when I find him I'll change the script and let you know.
Thanks for the award!!
Thanks to all others who granted me an award too.
Due to all the strings attached, like choosing 10 other people, etc etc. I haven't posted them yet.
Each day I have to make a choice what to do because I need to press about 3 days in 1.
Thanks a lot!