january 6 2009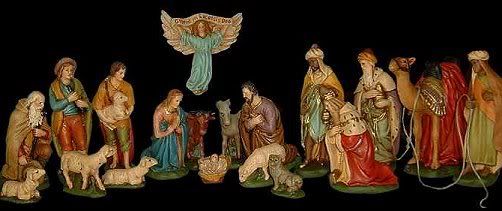 It's 3 kings day.
The day that the three kings, or three wise men, came to the little child in the manger.
It's the last day of the christmasseason.
We used to go singing around when I was young.
We dressed up as kings and going from door to door we sang either a christmas carol about the three kings, or a special 3 kings song.
At school once more the christmasstory was told, with special emphasis on the three men, who followed a star.
In some countries this part of the story seems to be forgotten.
It's like they're not able to live in the present.
When it's thanksgiving they already have the christmasdecorations up, and now they're already decorating for valentine's day. Which is completely nuts, as valentine's day is for young lovers who haven't expressed their love yet.
Not celebrating 3 kings day is like not knowing the christmasstory.
Especially for people who have the person Jesus central in their religion this day is of utmost importance.
Why?
Because these 3 people not only followed the idea that a king was born and they wanted to go to see who that was, but they also payed utmost respect to that king.
The kings of worldy power payed their respect to a king of religious power.
This made religion to be more important than everything else.
And even more.
The kings were amazed by the friendliness and inner strength this little family radiated, and their gifts, even gold, were completely out of context.
This little family needed warmth, food and a house to live in.
The things which are most important to a human being were central.
It's not about what you have. but how you use it.
It's not about how important you are you are, but if you are able to see what's most important in life.
Happy 3 kings day!