december 19 2008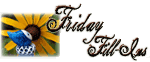 1.
Said the night wind to the little lamb,
I'll only whisper to you as you're to small to blow away.
2.
The first Noel, the angel did say
, the sky is too cold and the snow feels like clay.
3. Christmastrains carry you,
Over the hills and everywhere
.
4.
It came upon the midnight clear
, it was a pity the mailman had to take the box back as no one was here.
5. When you have no heating and there's no help in sight don't worry,
Let your heart be light
.
6.
And the thing that will make them ring is the carol that you sing
and you can be sure they'll ring these bells so loud that you have to shout, because you sing so bad that they all go mad.
7.
And as for the weekend, tonight I'm looking forward to
being run over by a reindeer,
tomorrow my plans include
to deck the halls and Sunday, I want to be kissed by Santa Claus!
Want to take part too?
Click the logo.