december 12 2008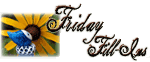 1. Friends
are very important to me, but most are far away
.
2.
Don't talk about my
health; it's
crap at the moment
.
3. I'm ready for a real vacation,
but it doesn't seem that this christmastime will be the best time for it
.
4.
Tender roses
is one of my favorite perfumes or aftershaves or smells. But I have to say that my asthma acts up when confronted with many smells.
5. The oldest ornament I have is
a tiny bird from my gram
.
6. Take some
cinnamon, clover and anice seed
, mix it all together and you have
a nice mix to throw in cooked water and make your house smell nice.
7. And as for the weekend, tonight I'm looking forward to my
favorite TV programs
, tomorrow my plans include
getting all the groceries in
and Sunday, I want to
try to get someone else to cook
!
Want to take part too?
Click the logo.