november 7 2008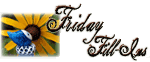 My blueprint for success includes

insight in what you want to achieve, how you can achieve it and perseverance.

.

Licorice

was the last candy I ate.

The best facial moisturizer I've ever used is

suncream from Yves Rocher

.

Humor

can be good therapy.

I'd like to tell you about

a way to put more hours in a day, but I can't.

Problemsolving

is my strongest characteristic.

And as for the weekend, tonight I'm looking forward to

my bed

, tomorrow my plans include

finishing and sending a letter to the schooldoctor of my autistic son, doing the laundry and more of those chores

and Sunday, I want to

relax

!

Want to take part too?
Click the logo.