october 24 2008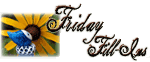 R

ight now, I'm feeling

tired of the pain in my back, but I wanted to finish this friday meme.

Scotland, somewhere in the highlands near a lake

is where I want to be

.

How does one

find an old friend who seems to have disappeared from this earth?
Humor

keeps me on track

.

Please don't

tease me at the moment.
Looking at my kids when they''re asleep

fills me with joy

.

And as for the weekend, tonight I'm looking forward to

the end of it,

tomorrow my plans include

trying to get rid of the pain and get something done in the house

and Sunday, I want to

feel relaxed!
Want to take part too?
Click the logo.