october 17 2008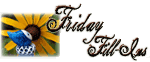 My first time.
Follow the

noice of the drops and you'll land in the rain.
Lipcare

is something I always take with me on vacation

.

To achieve your goals, you must

dream, work and persevere.
That I collect giraffes, little houses and fountain pens, and I would love to have a pocket watch

is something I'd like you to know about me

.

I have a

dream.
Bubble wrap

floats

.

And as for the weekend, tonight I'm looking forward to

a few moments for myself,

tomorrow my plans include

getting the groceries in and watching casualty in the evening

and Sunday, I want to

sleep in, so everybody be silent!
Want to take part too?
Click the logo.