may 11 2008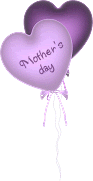 I can't believe it: my computer went black.
Twice.
I hope it's the temperature. It's nearly 26 degrees celcius here.
I'm now using a laptop from a friend.
Nice for a little while.
But I was bussy making a graphic for mothersday. Ca't do it with this one.
Well, mothersday is full of surprises.
The children made me breakfast, coffee and peperkoek, and then wanted me to sit on the couch and wait.
I received some very nice presents:
earrings and a pendant...very red
a short blue scarf
a little bureau clock
a little aqua towel
a plastic rose
and ofcourse the lovely poems, spiced up with the funny proof of dyslexia, the drawn hearts and some other sweet DIY.
And I treated myself with a nice plan for my dollshouse 1:12 items.
Am I strange to think that whenever I want to do something for myself, something else goes completely wrong?
I can't do without my computer. It keeps me sane.
Maybe G from B is able to send me what I earned two months ago?
It helps me to find a new computer screen.
Well, I wish everyone a very happy mothersday.
It's summer here, so I maybe I can do something in the garden before we're back to winter or thrown into fall.LOL!
Enjoy Mothersday!!!