may 25 2008
In Belgium, at the airport of Zaventem an Americal Boeing 747 Jumbo crashed.
The airplane was trying to take off on a flight to Bahrein, but instead broke in two.
Some people heard a strange noise, often associated with a flat tyre, just before the plane from Kalitta Air broke off the manoevres to ascend.
There are no deaths or casualties, but the crew is taken to hospital. It's assumed they are in shock.
In 1994 a plane of the same type and from the same airline lost a motor above lake Michigan. The pilots were able to land safely.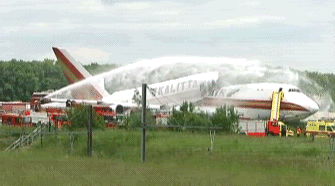 photo taken from TV
.